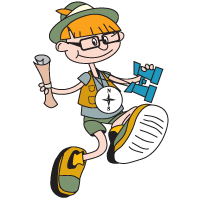 Summer Camp:
Summer Camp runs 6 weeks –  it is an integrated preschool experience for children 2 years, 3 months to 6 years of age. The children are divided into 2 groups. The older children begin outside (fenced in) with arts and crafts and sensory. The inside group enjoys big block building, drama center, free play/floor toys.
Each group has morning snack and music in the location where they begin their day. Mid-morning the groups switch locations, so that both groups get the opportunity to enjoy both inside and outdoor experiences. Note: there is a rainy day plan in the gym.
Summer camp will run for 6 weeks with the option of attending for three week sessions.  Families will have the choice of attending Mon-Fri, Mon/Wed/Fri or Tues/Thur.
Children will be separated into groups according to age and development.  Each group will rotate through the classrooms that will be set up with a variety of different activities.  In our free play room, the children will enjoy tabletop toys, a dramatic center, large block building, books and puzzles.  In the arts and sensory room, the children will get down and dirty with their unique creative expressions as they enjoy painting, water play, gak, goop, playdough, etc…. Our final station will be Gross Motor/Creative Movement.  The children will also engage in a group co-operative game that will be planned on a weekly basis.  Some of the children's favourites in the past have been Parachute, Dance Freeze and a Musical Marching Band.  Each group will end the morning with an interactive music circle where they will enjoy a variety of different fun and exciting Yes I Can songs complete with musical instruments and props.
 Yes I Can Communicate Camp
11:30 to 2:30
after a fun morning camp the children in the communicate camp join their one on one for lunch and the afternoon activities
goals will be set by parents, and the teachers in consultation with our Speech and Language Pathologist.
The children will be split into two groups based on development.
Specific group and dual activities will be planned in order to promote speech, commmunication and social interaction
All of the recommendations made by the Speech Pathologist will be implemented during all the activities. This will include but is not limited to visual schedules, pec boards, choice boards, theme boards and social stories.
A "Today I" will be sent home on daily basis outlining the progress of each child and their happenings of the day.